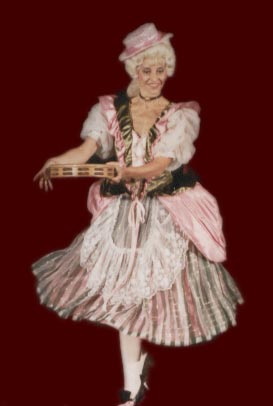 Enchanting Renaissance and baroque dances both performed and taught by renowed, experienced professionals.

Arbeau Historie Dance Ensemble ARBEAU was founded by Rita Szell in 1985. Considered at the time as a unique initiative it set itself
the task of exploring the world of Renaissance and Baroque dances, introducing the general public to them
and making them as popular and widespread as possible, The authenticity' of the dances performed by
ARBEAU is guaranteed by the fact that all of them are based on Renaissance and Baroque choreographies` and other sources dating back to those periods. The ensemble's repertoire includes dances of a wide variety of genres ranging lion) the early Renaissance to the late Baroque
.
ARBEAU has been acclaimed on numerous festivals and concerts, such as:

Pictures from the history of Hungarian music /a series of the Hungarian State Television, 1990-91
Renaissance games, with Camerata Hungarica (1991)
Händel: Agrippina, Festival in Obuda ( 1993)
Schmelzer: Balletto, with Chamber Orchestra Orfeo ( 1994)
Concerts devoted to Lully és Rameau , with Budapest Festival Orchestra (1995)
Gluck: Orfeo, with Budapest Festival Orchestra ( 1996)
Concerts devoted to French Baroque ballet, with Concerto Armonico ( 1996, 1997)
La danse noble, with Capella Savaria ( 2001)
Les Nations, with Capella Savaria (2002)
RITA SZÉLL:
is a dance historian, choreographer. founder and artistic director of ARBEAU Historic Dance Ensemble professor at Liszt Ferenc Academy of Music and the National College of Ballet. She has attended various courses at institutions specializing in Renaissance and Baroque music and dances in Austria. Germany, Italy and France. has participated in different festivals. concerts. has been a guest lecturer at the annual Historic Music Days in Sopron since 1991. Her book entitled 'French Renaissance Dances' was published in 2001.